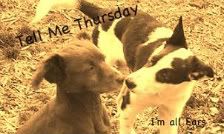 Wow is it really Thursday already. I don't think I've got much done this week, but I know it has been hot - 108 yesterday - which really puts a damper on anything "dog", so I guess what I have got done is "SURVIVE"!! lol
In answer to Laura's questions here goes.
#1. How did you get into Border Collies?
Almost 11 years ago my second daughter got a 4 month old BC pup that would work any thing that moved. So, I got a couple of videos and trained her for ranch work. Skeeter was such a natural gather dog and could read stock well, she taught me more than I ever taught her!!!. She worked hard on the ranch, gathering goats and cattle, and being an exercise dog for the kids' 4-H projects. I raised 4 litters of pups out of her, most of which went to farms and ranches for working dogs. I kept Tate from one of the litters and he became my first trial prospect. I went to my first trial a year ago and I am totally hooked!!!! Note: Look two posts down and you'll see pics of Skeeter.
#2 How many dogs do you have?
Tate - 3 year old male
Liesl - almost 2 year old female
Bess - 3 1/2 month old female - 3/4 sister to Liesl
Sonya - Pyrenees guard dog
Tate 1
Liesl 1
Bess 1/2
Sonya 1 1/2
_______
Total 4 !!!!
#3 What I do for a day job?
Full time hand on the ranch. Dog trainer, horse trainer, milk maid, chore girl, errand girl, handywoman, cook and chief bottle washer.
#4. What question would you like to answer (ask)?
No, I don't get paid for any of the above jobs, but a friend of mine says: "I'm too busy to work!"
#5. What was for dinner last night:
Meat loaf, baked potatoes, green beans, cantaloupe, fresh cow's milk and chocolate pudding.
Thanks for viewing!!
Happy "Trialing" to all!!!