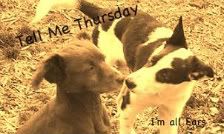 I read the question this morning and have had all day to contemplate my response. I'm not sure if that was good because I too long to think about what I want to accomplish in six months. I'm not a novelist. So I'm going to do the best to just pick a few things that are important.
Going over the next six months, what are your goals?
Goals for myself:
lose about 15 pounds - our only son is getting married in six months and I want to fit in the dress that I bought 2 years ago
write more consistently in the journals that I have started for all my kids and their spouses
correspond with my extended family more - they live in Colorado and Wyoming so don't see them often
Quilting goal:
finish hand quilting small Christmas quilts for the girls
hand quilt "colors of the sea" quilt that is a wedding gift for a friend
design, make and hand quilt son and fiance's wedding quilt
Dog goals:
after this fall, my desire is that Tate and I will be competitive in the ranch class, which means working several days a week, which really has been easier since it is cooler.
continue to work with Liesl, who is really testing my patience, but my goal is to trial her next year.
be absolutely excited every time I work with Bess - she is doing so well, I have to be careful not to let her do too much too soon
name the new pup - yes I have a new puppy!!!! (hopefully the naming won't take six months!!! lol)
Ranch goals:
finishing building the holding pens around the round pen
build the roof to the breeze way between two barns
start saddle breaking the long yearling gelding, GW McClintock
wire the lights in the box car (which we use for storage)
repair the chute
House goals:
remodel master bath
extend rock patio under porch
repair/refinish several pieces of vintage furniture
Random goal:
document all the crazy work verification letters and try to make sense out of them - "pingyfro", "grami", "hairtc" - is that like a tick in the hair, or a wild person with some really wild ideas???
Happy Trails to You!!!