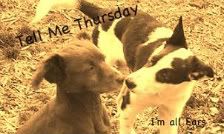 Time for another installment of TMT with
Laura
!!! Always a Fun Trip - so pull up a chair and take a ride with us. Last week 20 people played and linked up. What a great time for all involved!!
#1. What is the biggest thing that grossed you out over the past week?
Okay, when I first read this I had no idea what grossed me out - hey I'm the woman with a cast iron constitution -NOTHING bothers me!!! But then I remembered one little incident. This past weekend is our community's annual Goat Cookoff. We never go to the actual cookoff, but our SIL likes to go to the local barbecue place and get a big plate of goat barbecue - the rest of us eat beef or chicken. So, we were eating and enjoying the food and company and hubby asks SIL how the goat was and SIL said reeeeeeaaaalllll good except this piece of goat hide and hair that they left on the rib!!! Then he proceeds to hold it up for all to see!!! You're right I GAGGED!!!!!
#2. What do you feed your dogs?
Dog food - oh you mean what kind of dog food - so sorry. I tell them they are getting
or sometimes they get
Twice a week they get
Two different days a week they get
But if they are telling the story - this is what they get most of the time
And they said it doesn't taste like steak!!!!
#3. If you could move anywhere, where would you live?
Without a doubt somewhere where it is green cause it is brown or black in Texas!!! Some place like:
THE SANDHILLS OF NEBRASKA
or here
WYOMING
or maybe even here
DALVEENPASS SCOTLAND
#4. What is the funniest thing that occurred to you (or happened to you) this week?
I had tears in my eyes and my sides hurt when I read Laura's account of gathering eggs!!!!! And those weren't sympathy pangs for her either!!! So sorry Laura, I wish I could have been there!!!!

#5. If you couldn't have your breed of choice, what would be next on your list?
Okay, I'm making a huge assumption here that since we are primarily border collie people, Laura must me talking about dogs - but hey, it's her game so I wasn't sure!! lol
Without a doubt I would take another Irish Setter!!!!! Had one when I was in junior high and high school. His name was Chipper and he was awesome. Besides, I like to hunt birds (even chickens - wanna go along Laura?)
I got Chipper because of this book:
Happy Trails to You!!!