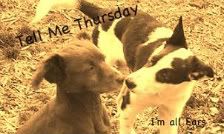 Wow, time does fly, and thanks Laura, I kinda needed a "no brainer" week!!! My first fall trial is tomorrow, so my brain can't handle any thing too strenuous!
#1. What is your favorite Little Debbie snack?
and in this order.
#2. What do you use for laundry detergent?
Clean Burst scent. But I'm wanting to try Laura's deal sometime.
#3. Tighty Whities or Boxers?
I don't really care - but I was going to upload a picture of Abercrombie and Fitch models wearing them, but....
#4. Dogs: On the bed? In the house? On the furniture? Never. What are your rules?
NO! NO! NO! Never. Outside dogs only. I had four kids and a husband in the house - I didn't need dog cleaning to add to it.
#5. Favorite dog related web-site? Favorite NON dog related website?
Alta_Pete Trials
for the dog related, and it's a toss up for the NON dog site I follow quite a few quilter's blogs and I enjoy them all. Right now the one I'm enjoying reading the most is Barbara Brackman's
Civil War Quilts
because she has included some very interesting historical excerpts with each block she introduces each week. I started late on making the
blocks
, and am working to get caught up.

Note: check out my previous post. I know a lot of you are coffee drinkers and may want a chance at my giveawy!!
Happy Fall Ya'll