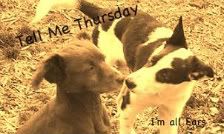 Laura wants to know:
#1. If you won the lottery (a big one...I'm talking stupid muchos cash) what would you do with the money?
Get out of debt, give my kids a bunch of it, buy a new aluminum horse trailer that will haul at least 4 horses and my dogs, tack compartment and small living quarters, and move around the world in accordance with sheep dog trials.
#2. After winning the lottery would you work a day job? If so what would you do?
I asked my dad a question like that many years ago, and he told me that he wouldn't want to do anything else than what he was doing - he was a rancher. I think he would have like to be out of debt, but he loved his lifestyle. I have been so very blessed to live a similar life, that I guess my day job would be what I do now. It's hard work, but a good life.
#3. Do you have any auxiliary dogs? Auxiliary dogs are dogs that are not essential to your main purpose
(usually tiny, but not always). If you don't have an auxiliary dog, what would you choose?
No auxiliary dogs here. But let's see, what would I choose......
Maybe one of these!!!
or one of these:
or the summer version!
But what ever I get, I definitely have to one of these to walk the dog!!!!!
#4. Do you have a favorite crock pot recipe (or other recipe) you can share?
Beef Stroganoff
2 lb beef tips
1 large onion chopped
1 can cream of onion soup
1 can golden mushroom soup
1 8 oz. can sliced mushrooms, drained
1 tsp ground black pepper
1 8 oz cream cheese, softened
1 8oz sour cream
1 16 oz pkg egg noodles
In crock pot, combine beef tips, onions, soups mushrooms and pepper. Cover and cook on high (depending on your crock pot) for about 8 hours or until beef is tender. Stir in cream cheese and sour cream. Cook noodles according to package directions. Serve meat over noodles.
I haven't made this yet, but I had it at a friend's house and it was scrumptious!!! She cooked the noodles and then stirred them in with the meat before serving. Great with tossed salad and rolls, and of course anything CHOCOLATE FOR DESSERT!!!!!