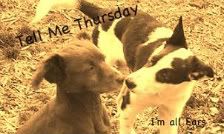 Wow, Thursday already, and Laura, digging deep! How did you know last Friday was a
GREAT BIG KICK MY HINEY OBSTACLE!!!
So, here goes! I've been having some really, really, really nice practices at home with Tate. We've really begun to "partner" at the pen, driving is consistent and steady, flanks are 99% square and smooth, outruns he's stopping himself at the head of the sheep and fairly good lifts, rushes just a little, but fetches well, and takes flank commands quickly and efficiently, driving around the post and holding the pressure side well. So, maybe I was over confident, but felt good when I went to the post Friday afternoon. Sent him to the left, nice big outrun, stopped about 11:00 at the head of the sheep. Had to encourage him to walk up and lift, but doing okay, and then..... well it all went south - literally. One old ewe through up her head and Tate "helped" her go south - toward the set out. The outrun was about 150-175 yards, but the set out pen was 400+ yards away - you know that 1/4 of a mile!! Well, I left the post at a good clip, (and some joker in the spectators said "she'll NEVER run that far"!) but thanks for good friends, Jo said "oh yeah she will, just watch her!!" Anyway, got a good correction and had another chance since I had two runs. We "gotter done" but it wasn't pretty. Slow on the lift, some off-line on the fetch, nice control at the post and going to the pen, and Tate did good at the pen, but one old ewe got her head over the line and then just sat there - I was leaning over her (not touching!!) and whispering "sweet nothings" in her ear. Caused Tate to come around and one of the other sheep shot out of the pen, but Tate stopped her and I finally "convinced" the ole
ewe to cross the line. We ended up 4th out of 11, so I'm okay with that.
So, been working on lifts all week. He is better, but we will see how it goes tomorrow - two more runs at the last trial before the state finals.
I was pretty bummed over the weekend, but got it all back in perspective and found the good things we had done, and went to work on the things that we didn't do well.
That's life - always obstacles - but we can choose to be victorious in our own minds!